Big. Everything about this watch is big: the size, the depth rating, the price. It's the most extreme diving watch that Rolex have ever offered for sale, the only other watch they've ever made that can outdo it is the Deep Sea Special, which wasn't exactly a daily wearer. It's certainly an impressive watch - but is it as good as the hype would have you believe, and is it a viable watch for the ordinary watch wearer? I'll weigh up the pros and cons and come to my decision, and hopefully it might help yours as well.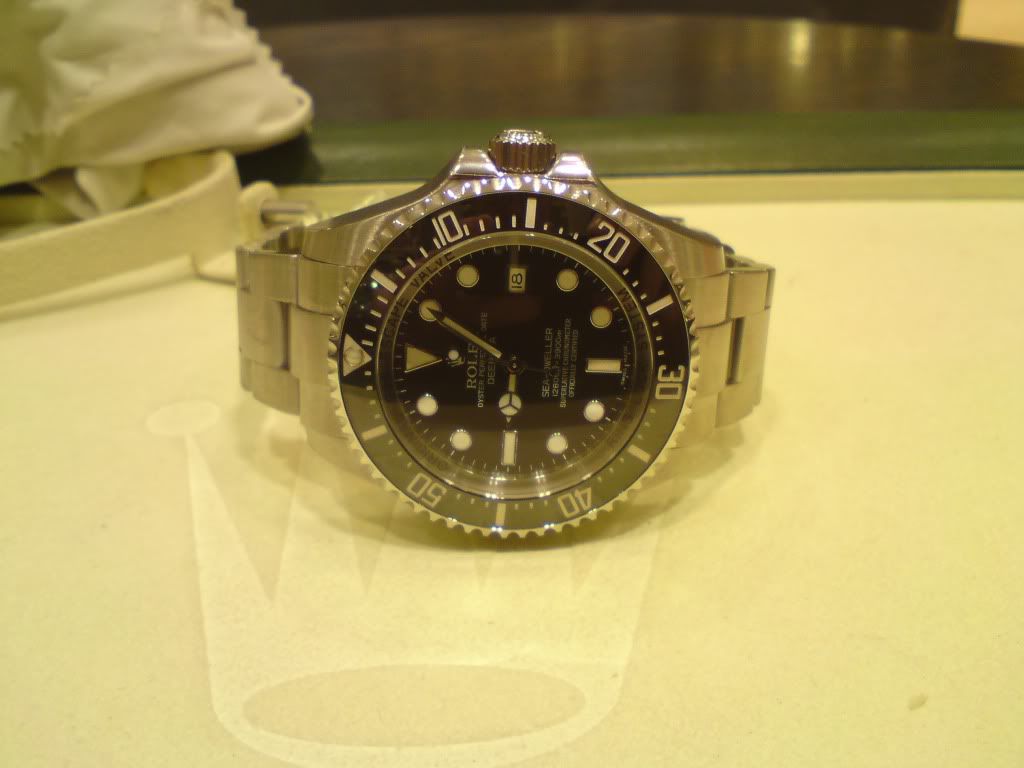 Techincal Details
*Model Number: 116660
*904L Stainless Steel
*43mm Case Diameter
*Unidirectional rotating diving bezel, ceramic bezel insert with platinum numerals
*Maxi Dial and Hands, filled with Chromalight luminous material
*Ringlock system for extra strength at depth
*Automatic Helium Escape Valve
*Domed Sapphire crystal
*Titanium Caseback
*Oyster bracelet with Glidelock clasp
*Oversized Triplock crown
*Waterproof to 3900m/12800ft
The Movement
*Cal. 3135
*Self windng chronometer
*28.8k bph
*Quickset date complication
*Parachrom blue hairspring and Paraflex shock absorber system
UK RRP: £5790
The Aesthetics
Rolex have carried on their traditional diver's watch look: black dial, black bezel, easy to read and easy to see at night. Simple yet functional. However, this really does have a premium feel to it, and I, for one, feel that it is a huge improvement in terms of quality over the previous generation Sea Dweller. The bezel has a lovely feel to it, and glides smoothly into place, and has a lovely shine to it. Wisely, Rolex have kept the bracelet brushed, with only the case and bracelet sides being polished. This, for me, really means it stamps out its tool watch credentials straight away - it's not attracting attention to itself by being flashy, it's here to do a job and do it well. I love the honesty of it.
The size is a real "marmite" factor: some love the size of it, others hate it. In a world of Panerais, Breitlings and other oversized watches, 43mm for a case diameter is relatively modest. It's more the height of the watch which is an issue - I personally think it's just too tall for formal wear, there's no way of getting it comfortable under the cuff of a dress shirt. It absolutely dwarfs my Datejust: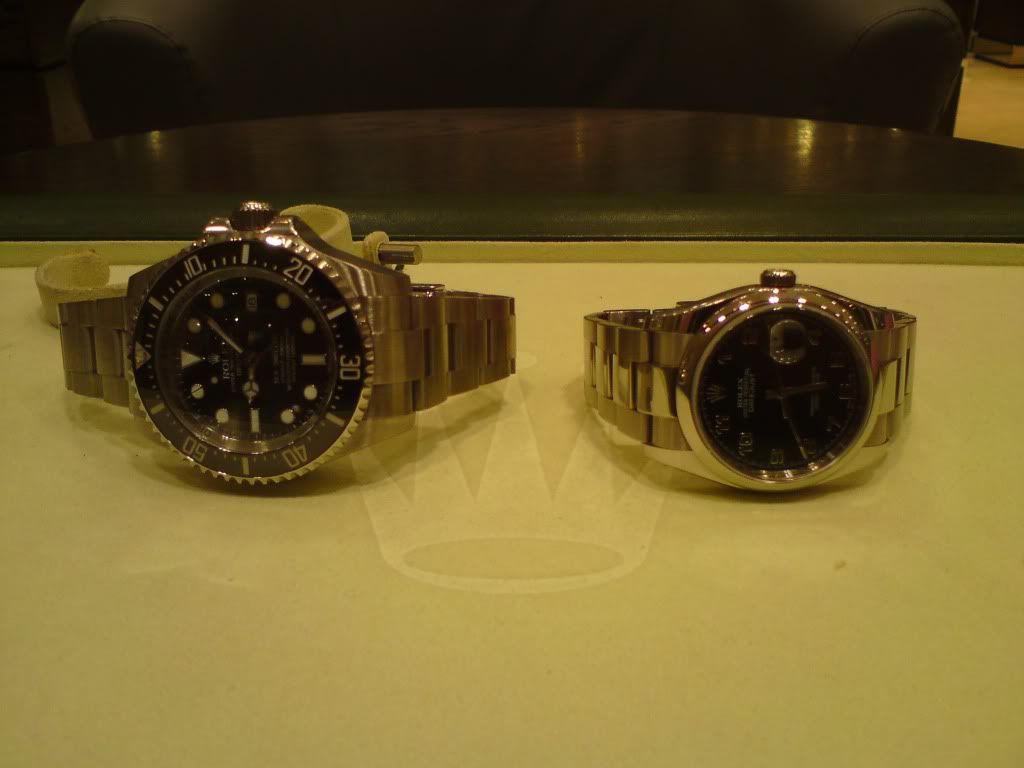 However, it has the look of an industrial piece of engineering, it looks rough and ready to handle anything you could possibly throw at it. This is a watch crying out for outdoors activity, and I think that's the best place for it. In a business meeting, it'd look like a fish out of water, like a bodybuilder at a science fair. In it's element, however, it reigns supreme, and I'm sure the size and weight of it will give the wearer full confidence in it's abilities.
Practicality
As already mentioned above, this isn't the most practical of formal watches. Not something I'd personally recommend as an only watch, but if you had this in conjunction with a more suitable watch for work wear, then you have yourself what I think is a brilliant weekend watch. It's waterproof to a depth no human can physically dive to without a submersible, its brushed finish means scratches will be only a minor concern, the ceramic bezel is extremely durable, and the Glidelock clasp makes a particularly heavy and cumbersome watch surprisingly comfortable to wear. In fact, the Glidelock is such an important feature of the Deepsea, it needs a little section all to itself.
The Glidelock, for me, is the best practical innovation Rolex have developed in years. Whilst the Yachtmaster II's movement is a fantastic piece of horology, it's way out of reach for the average watch colector. The Glidelock, on the other hand, is a revolution in clasp adjustment, and won't just be available on the Deepsea, but the Submariner range as well: the new 18Ct and two tone models already have it, and the new steel version is expected to have it when launched too. Whilst ostensibly designed with wetsuits in mind (the diver's extension link remains with the Glidelock providing an extra 1.8cm of adjustment), it is the perfect feature for an ordinary user. Hot day? Let it out a notch or two. Want to play tennis? Tighten it up. The Glidelock removes the need to move pins in the clasp around - whilst you could get a high level of fine adjustment on the previous generation Sea Dweller, it was a fiddly, complicated and time consuming task compared to the Glidelock. To use it, simply undo the clasp, lift a finger under the edge (as pictured) and slide the link as much as you need. Takes all of 5 seconds. If I was the head of Rolex, I'd have that clasp placed on every single watch in the line up - my only criticism of the clasp is that it's only available on divers' models.
Value for Money
You certainly get a lot of watch for your money. Incredible engineering, high quality parts, bragging rights ("Oh, so your watch can go down to 300m? Nice, but look at mine..."), and that little bit of magic that will appeal to the 10 year old inside you. Of course, it's not a watch for everyone: its critics will cite its size and ostentatiousness as flaws, it'll be simply too much for most. But you need to look at this watch from Rolex's point of view, and I think they've been incredibly clever with this watch. Firstly, they needed a watch that could realistically compete in terms of chunkiness with Panerai and Breitling, and no one can argue that they haven't done that successfully. Secondly, they needed to reiterate their reputation as the makers of watches that can survive the harshest of places - the Deepsea is an excellent example of this, and testiment to their overengineering. Thirdly, they needed to underline their reputation as a maker of the highest quality sports watches, something that the (please forgive me) Submariner and Sea Dweller 4000 lacked. I see the Deepsea as a statement for Rolex's future, a reminder of what they do best. Yes, it's a big price increase compared to the old Sea Dweller, but this is in a completely different league. The Sea Dweller was an excellent watch for the 20th century, but the Deepsea is a 21st century watch through and through.
Conclusion
Excellent technical achievement, but not for everyone. Quite possibly the best engineered tool watch of all time, and truly the new benchmark in terms of sports watches.