It's been a little while since I last updated this blog due to doing a lot of what I love doing best: selling high end watches. A couple of very successful weeks mean I've been going round with a smile on my face. Anyway, amidst the manic atmosphere at the shop, I was able to get my hands on one of the new arrivals, the Raymond Weil Tango Chronograph, a great looking watch, and a lovely addition to the Raymond Weil range. As a general rule, I've been struggling to find a watch that really appealed in their line up - undoubtedly nice quality watches, but just lacking that certain something that appeals to me. No longer: as soon as I saw this watch, I knew I had to take a much, much closer look.
The Technical Stuff
The model reviewed was the ref. 4899-ST-00668, which comes with the very attractive charcoal and silver dial. The watch is also available in an all black dial (ref. 4899-ST-00208), as well as options on leather straps.
*Case width: 40mm
*Sapphire Crystal
*Water Resistant to 50m
*Stainless steel
*Double push deployment clasp
*Big date (a particularly nice touch)
*Quartz Chronograph movement, w/ continuous seconds, 30 minute totaliser and 1/10th sub dials
RRP: £895
All in all a very nice little package, and quite a lot of watch for your money.
The Aesthetics
This watch is certainly good looking by any stretch of the imagination. For me, there are elements of Lange und Sohne, Rolex and Cartier in the design of this watch, and that's certainly no bad thing. The silver subdials are pleasing to the eye, and give a nice, subtle contrast, whilst the dial itself doesn't feel too cluttered, despite the array of features it offers. It has a nice weight to it, the clasp is solid and feels very secure, and the bracelet is more dressy than sporty. This feels like a watch more at home under a suit than one designed for the great outdoors. As shown in the photo below, it sits nicely on the wrist, and isn't overly large - the quartz movement stops the case from being too chunky.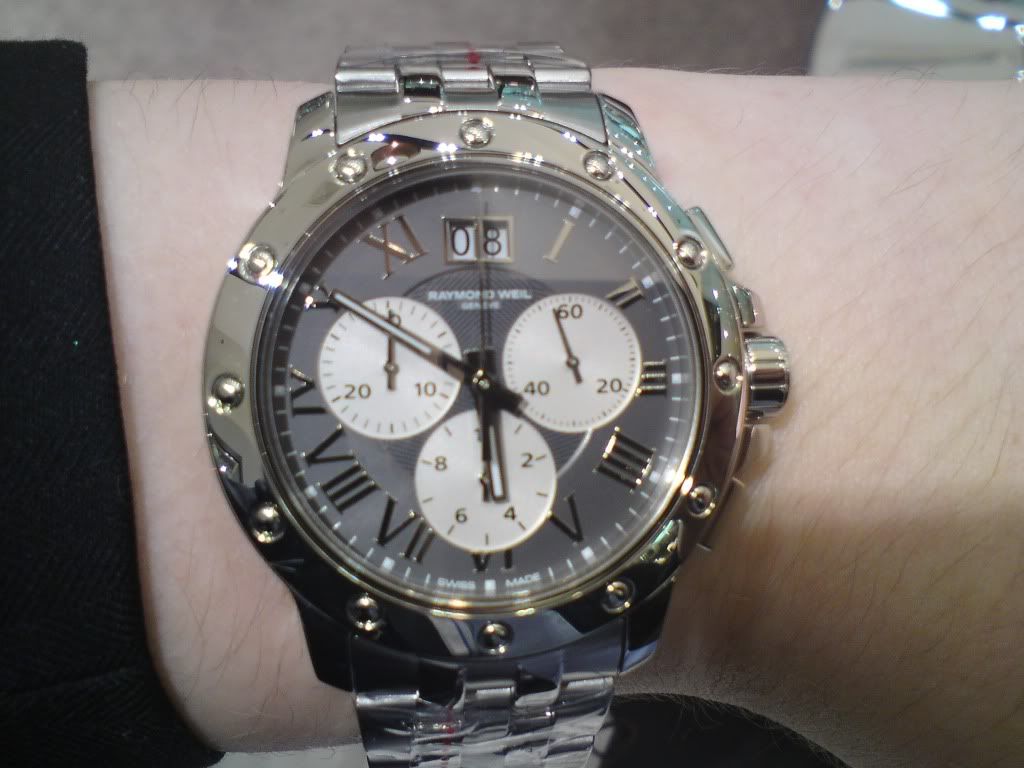 Value for Money
Whilst it might be expensive for a quartz chronograph, the Tango Chronograph provides an elegent and robust entry to the world of luxury watches. At the price point it's at, I can see it being in competition with the likes of TAG and Omega, but out of all the models in the Raymond Weil range, I think this one can really hold it's own. In terms of practicality, it packs a lot of features into a very well presented package - to get a split seconds chronograph with oversized date, plus Roman numerals onto one dial without overcrowding it is no mean feat. When put next to a quartz Seamaster or F1, I think the Raymond's inherent dressiness can see it through, and provides an interesting alternative to more mainstream models.
Conclusion
Whilst the quartz movement may be a deterrent to some, this provides an excellent and unique pathway to the world of luxury watches. Raymond Weil is a brand often overlooked in favour of more heavily advertised marques, but this watch prooves that they can headturning yet classic timepiece for an exceptionally reasonable price.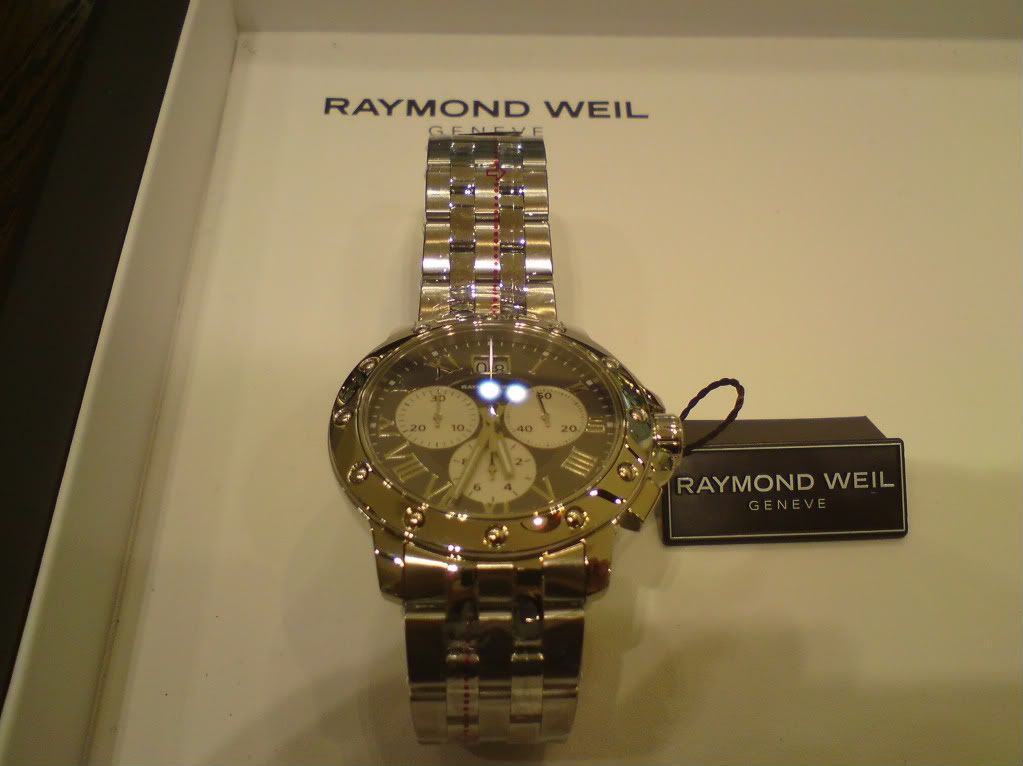 Thanks for reading
The GMT Master