It's been a long time coming, but here's a new blog post! Time for a new review, and it's a horological legend: the GMT Master II 16710, a long time stalwart of the Rolex range until it was killed off in favour of the new 116710 GMT IIc. The GMT has always been a fan favourite, and, having a pristine example to hand, thought it was time to review this truly beautiful watch. The model reviewed had the "Pepsi" red and blue bezel fitted, and was on the Oyster bracelet, with sports clasp.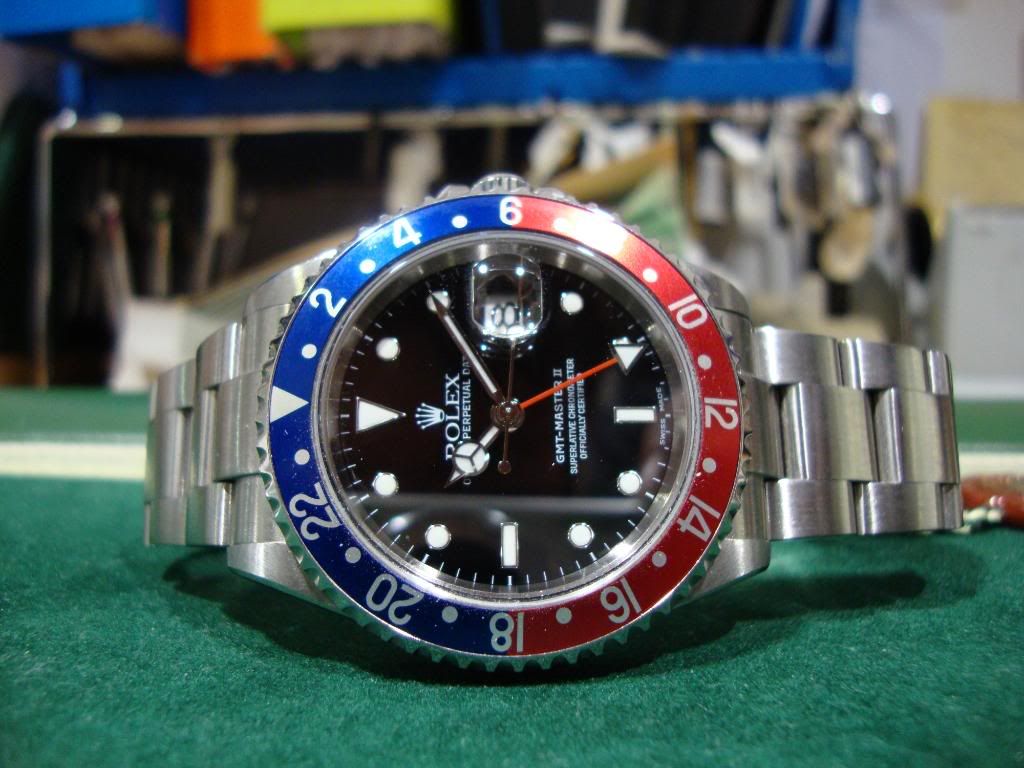 Technical Features
*Model ref. 16710
*Stainless steel case
*Bidirectional 24hr bezel, with choice of blue/red, red/black and black anodised aluminium inserts
*Case Diameter: 40mm
*Black sports dial with luminous (Superluminova) dot and baton markers w/ white gold surrounds
*Twinlock crown with crown guards
*Sapphire crystal with cyclops-magnified date
*24 hr. hand
*Independent hour hand - allows up to three time zones to be displayed concurrently
*Oyster Bracelet
The Movement
*Calibre 3185
*28.8k BPH
*Approx. 48 hour power reserve
*Self winding chronometer rated movement
*Semi-quickset date (done through independent hour hand)
*Nivarox hairspring
UK RRP: Discontinued. 2nd hand value of model posted: £2950.
The Aesthetics
That blue and red bezel combination makes this one of the most easily recognised Rolex models out there - it just screams "GMT." This might be too colourful for some, but I personally love it - practical, and iconic. If blue and red is too much, the other bezel inserts would certainly make it more understated. The numerals on the bezel are a little more subtle than on the GMT IIc, and I think it generally helps make the watch seem more rough and ready - a bona fide tool watch, as opposed to the "useful dress watch" appearance of the GMT IIc.
The brushed bracelet does help with this impression as well, and is classic Rolex sports watch through and through. The dial is clean and readable, even without the "maxi dial" of newer sports models. The red 24 hour hand contrasts nicely with the dial, and as such, is a very easy watch to read at a glance. My only criticism when it comes to looks is the small size of the twinlock crown - it doesn't quite look right on the case, and it is particularly fiddly to operate. Rolex addressed this problem by issuing the GMT IIc with the slightly larger Triplock. All in all, it looks great, and has aged very nicely - I certainly don't feel that it looks like a 20 year old watch, even though it first hit production lines that long ago.
The Feel
On this point, I feel I have to be a bit more critical of the GMT II. Whilst it might look fresh, it certainly feels like a 20 year old watch, much like the other Rolex models that have forgone updates for the time being. The bracelet is very light and rattly, even with solid end links. The clasp is functional, but doesn't inspire confidence - a very thin pressed metal clasp. Whilst purists will quickly point out that it's served the test of time (and they're spot on), I can't help but feel that the clasp seems cheaper than the one on my £150 Seiko Monster. It's not fitting of a watch of this reputation, and isn't a patch on the new clasps that Rolex have brought out. If you can afford it, a new Super Jubilee bracelet would be an excellent choice - it would completely transform the watch. Apart from that, it sits nice and closely to the wrist, and the micro-adjustments on the clasp mean you can get it to fit just right. I do realise this section is highly subjective, and for many people, the light bracelet and clasp won't be an issue: however, for me, if I was spending that kind of money on a watch, I'd want it to feel premium in every aspect.
Practicality
Well, what can I say? The GMT has always been Rolex's most practical watch, and this one is no exception. The perfect companion to any traveller, the three time zone feature has made it a long time favourite of commercial pilots. The low profile of the watch makes it a great everyday watch, and I think it looks great with just about anything. The watch is also a real chameleon - get all three inserts, a Jubilee bracelet, and a leather/NATO band, and you've got 9 different looks. Even Panerais aren't that versatile. I think this is probably the watch's strongest point, and makes it particularly unique. Having a brushed Oyster is always beneficial too, it certainy masks the scratches far better than models with polished centre links.
Conclusion
I do like this watch - the history, the looks, the practicality. However, that bracelet keeps holding me back, the one niggling issue, the fatal flaw. If this was on the new GMT's bracelet, I'd have it in a heartbeat. I think I have to come to a similar conclusion to my review of the 16610 - a great 20th Century watch, but feels out of place in the 21st century.
Thanks for reading,
The GMT Master